Technical Deck
Non-Player Character is an original musical designed and rehearsed in web-based virtual reality. This means we can/have successfully performed the show for virtual audiences on their preferred web-connected device (desktop, tablet, vr headset) within a single URL.
While virtual performance offers an incredibly sustainable and scalable mode of storytelling and rehearsal, we've found much more emotional impact through a hybrid, in-person experience: Four audience Participants share a "stage area" with the live performer while the remaining Spectators watch the virtual world projected on a large screen or wall. This is most comparable to art-house screenings like The Rocky Horror Picture Show Sing Alongs where the film is performed by actors simultaneously while projecting the cult classic movie including moments of audience participation.
As the live experience is contatined with a web url, there is always the option to host remote audience members, either as "ghost" users or livestreaming the virtual camera to a 2D streaming site.
To offer more interaction to users without VR headsets, we also have a Webapp for users to interact/vote/support the Participants throughout the story using their personal mobile device. This app also allows users to access information about the show, like a traditional paper programme.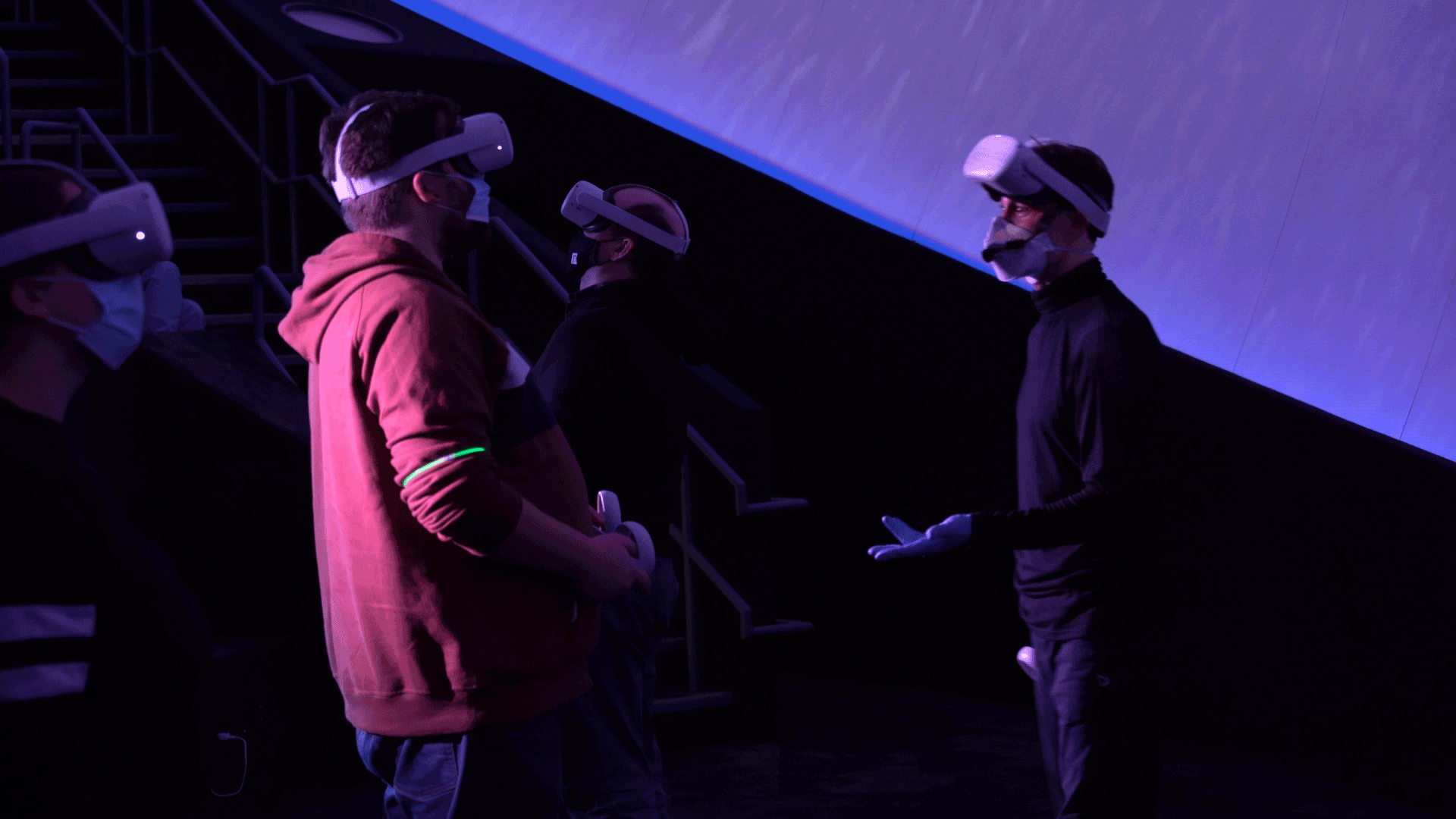 Tiers of Experience
Non-Player Character explores and expands the limits of "Hybrid" and Location-Based Live Entertainment by offering access to multiple tiers of audience interaction. While our "core" experience is the live storytelling interactions between the Performer and Active Participants sharing both physical and virtual space, we recognize the importance and power of audience choice regarding their level of interaction and immersion, thereby also offering a Spectator, Remote and Livestream tier of joining Non-Player Character.
 
                                                                                
In-person in the Venue
Spectators will sit in the auditorium like a traditional live event. The virtual world is projected in the background while a Live Performer and Audience Participants interact on stage.
In-person in VR
Select Audience Participants will be invited to use a VR headset provided to them on-site. They can experience the piece and interact with the live performer directly in the virtual world.
Remotely with a personal VR headset
Audiences who have access to their own VR headset can join the virtual world remotely and freely explore the world of the story. A robust internet connection is needed.
Remotely from any device watching the livestream
Remote audiences can enjoy a more passive experience through the livestream. They will be able to see what is happening in the virtual world, as well as camera views from the stage.
Personal Mobile Device
All audiences can participate in voting and interactions during the live show using a web application on their personal mobile device.
(icons by Unwired Dance Theatre & Cuputo from The Noun Project)
General Setup
We appreciate that every venue and partner has their own best practices for audio-visual transmission and livestreaming. As a general overview, the diagram below is meant to begin the conversation of how Non-Player-Character is designed to be plug-and-play with most existing Projector and Public Address systems. As the experience is accessible via web browser, we need only to open a webpage on the computer already connected to the venue's projector and plug our audio input into the venue's sound system.
The most important consideration for any experience like Non-Player Character is ensuring dedicated, private WiFi Router for the Staff that is capable of supporting a half a dozen wireless devices.
Stage Management can control the virtual cues in parralel with any traditional theatrical cueing in the venue.
Our Music Director can control a mix of live and pre-recorded instruments from on-stage, sending separate signals to both the PA System and Virtual experience. If live music is not requested, pre-recorded backing tracks may also be cued from Venue's existing sound interface.
For livestreaming the experience to remote audiences, the easiest method is to stream the same capture the Projector is receiving of the virtual world. However, some venues have opted to add additional cameras or feeds and we are happy to support this workflow.